Aarhus
Town Information
Full Name
National Anthem
Name in Towny
Motto
Established
Disbanded
Nation
Population
Chunks
Coordinates
Continent
Discord
Government Information
Mayor
Boosterr_b
Councillors
Political System
Basic Towny
Economic System
Capitalist
Official Language
Norwegian
Official Religion
None
Historical Information
Past Nations
Past Mayors
__Tomm
Past Councillors
Aarhus is a large city located on the Jutland/Jylland peninsula, it is part of the nation of Denmark.
Pre-History
Late 2018
At this time, a large town with a lighthouse and other buildings was built, however it soon collapsed, and left no signs of its name, or members.
Early 2019
The region was inhabited by a small town called Grenaa, which grew to about 15 chunks. It was owned by WorthyMeme, and it's known population was around 2 people. Not much more info is available.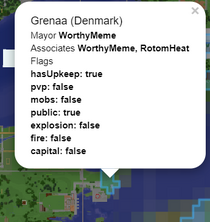 Modern History
Fouding
The town was founded by a British player known as __Tomm. He grew it to around 200 chunks, and eventually felt like moving back to his town, Oslo. He sold it to the Danish chancellor, Boosterr_b for around 400 gold.
Expansion
Once it went under Boosterr, he expanded the town a further 50 chunks, and recruited around 15 residents. He started to expand into Sweden, to cement the Danish territorial claims in the region. He started to build there, and buildings were made.
Staling Population
The town, soon after, went slightly inactive due to Boosterr being busy in real life, and losing slight interest. The town stays at 16 residents, with the mayor logging on once a week for building or recruiting.

The Danish Empire

Member Nations

Denmark
Significant Cities

Copenhagen |

Slesvig |

Aarhus
Government

Emperor alek_b |
Chancellor Wildcat_b |

Chancellor Boosterr_b

|

Jarl Maple_d |

Jarl 32Lego
Wars and Conflicts
The Great Balkan War | The Holstein War | The Ten Day War | Second Holstein War