The Kingdom of Argentina
Coat of Arms
Territory
National Information
Full Name
Kingdom of Argentina
National Anthem
Himno Nacional Argentino

https://earthmc.fandom.com/wiki/File:Himno_Nacional_Argentino.mp3

Name in Towny
Argentina
Motto
"En unión y libertad"
In Unity and Freedom
Population
41
Chunks
2007
/n list page
5
Capital City
Buenos Aires
Largest City
Buenos Aires
Oldest City
Córdoba
Established
November 15, 2018 (original)

January 28, 2019 (re-named)

Disbanded
Discord
Government Information
Leader

JoiGrama

Chancellors

Zinncer0


TawsHunter23
Prime Minister
Ministers
Political System
Parliamental monarchy
Economic System
Capitalism
Official Language
Spanish (Main)
English
Official Religion
Galletism
Army Size
Medium
Dominions
Part of
La Plata, Spanish Empire

Historical Information
Past Leaders
SoyGalletita, JonnyGrunge
Past Capitals
The Kingdom of Argentina (previously known as The La Plata Realm) is a nation located in South America. It is part of the La Plata meganation.
As of August 2020, it has a population of 41 citizens living in 13 cities. Most of the population are Spanish speakers and the main language is Spanish.
Argentina borders with Chile to the west, Paraguay to the north-east and Patagonia to the south.
History
2017
In April 15, 2017, The very first La Plata (then called Río de La Plata) in EarthMC history was founded (presumably by SoyGalletita) and its territory was owned by the Spanish Federation, a mega-nation who had one of their states established there.
Curiously, La Plata never reached total independence of Spain in Classic (although it wasn't one of their colonies).
2018
The foundation
On November 15, 2018, the nation La Plata (now independent) was first established in Terranova by SoyGalletita with the capital being Buenos Aires.
2019
War of Nuovo Palermo
On January 15, 2019, four users established a town in the Valdes Peninsula, located on the south of La Plata. This town, called Nuovo Palermo, was invited to the nation but they denied the request to join. This response wasn't to the liking of La Plata's authorities as it would mean losing all the southern territory. Following this, citizens of the intruder town were toxic at La Plata and this last fact was the trigger to start a fight for the land.
On January 22, the nation Argentina was founded by Nuovo Palermo's leader, ishallownyou. This meant the first (and only) battle to come next.
On January 23, La Plata executed a well-designed and ambitious plan to attack Nuovo Palermo. However, things didn't work as expected and for when Nuovo Palermo residents went online, La Plata (who brought 10 soldiers) already left the fort. This meant in La Plata fighting while being highly outnumbered (because all of their soldiers went offline for the combat time) and obviously, losing the battle.
After this, both nations came to peace after signing the peace treaty and the territory was succesfully negotiated. Nuovo Palermo would occupy Patagonia, and couldn't make towns further north than the Valdes Peninsula
On March 26th 2019, Argentina fell into ruin after months of inactivity and one month later, the nation currently known as Patagonia occupied its ruins and territory.
Division of La Plata
After the Battle of Nuovo Palermo, on January 29, 2019, La Plata's territory changed. There were IRL towns in Chile which were outside of the range of the nation. A nation called Chile was recently created, so La Plata's leadership purchased the nation. The La Platan towns in Chile were moved to the new nation

La Plata would now only occupy middle and northern Argentina, Uruguay and a part of Bolivia.
The southernmost part would be controlled by the nation Patagonia (ishallownyou) (now a deceased nation).
The Western area would be managed by the nation Chile.
Guashimingo Incident
Guashimingo was an Uruguayan user that made a town off the coast of Buenos Aires. The town was called Pirates, and the ruins are still there. Near the end of February, the town was invited to La Plata, and he accepted. However, Guashimingo soon started scamming people. At the beginning, the La Platan users defended him because they didn't know what happened. This made La Platan citizens fight with users scammed by Guashimingo, and other users that defended the scammed ones. Nbax, the leader of Ecuador at the time, was one of the users that attacked Guashimingo. This effectively caused a series of skirmishes between the nations. After some time, La Plata kicked Pirates out for scamming and stopped the war.
Name change to Argentina
On March 26th, 2019, La Plata changed its name to Argentina, after the name got free because Argentina fell beinto ruin. In this date, La Plata passed to be known not as the nation but the mega-nation formed between Argentina and Chile.
2020
Reconquest of Malvinas
On June 30, 2020, Argentina attempted to recover the abandoned territory in the Falkland Islands (which was entirely owned by the nation during 2019) establishing a town called Malvinas (now Malvinas_Oeste) after rumors of a new nation being made there. This quick movement resulted in the second Malvinas War between Argentina and the foreign town BritishFalklands, owned by Joel02.
On July 8, after one battle, Argentina declared decisive victory due to the purchase of British Falklands for 200G. This meant the first success of the whole La Plata in wars, as previous conflicts of this size were all defeats.
Government
Argentina is an independent nation that is governed by a parliamentary monarchy economically capitalist. Its king is Mr_RockyRoll.
The government is formed by the king, three high chancellors, four low chancellors and governors. Until late 2019, there were ministries but they were then discontinued due to inactivity.
Geography
The territory of Argentina is divided in 8 provinces:
Noroeste
The province of Noroeste (North-west in Spanish) is located to the northwesternmost part of the nation. It's occupied by 4 towns (Córdoba, Santiago del Estero, El Salvador and Salta) and 4 residents.
Noreste
The province of Noreste (North-east in Spanish) is located to the northeasternmost part of the nation. It's occupied by 2 towns (Resistencia and Posadas) and 2 residents.
Litoral
The province of Litoral (Littoral in Spanish) is located to the central-east of the nation. It's occupied by 3 towns (Concordia, Rosario and Entre Ríos) and 3 residents.
Cuyo
The province of Cuyo is located to the central-west of the nation. It's occupied by 2 towns (Mendoza and Llancanelo) and 8 residents.
Pampeana
The province of Pampeana is located to the central part of the nation. It's only occupied by the capital city (Buenos Aires) and 3 residents.
Uruguay
The province of Uruguay is located in the western part of real life Uruguay territory. It's occupied by three towns (Montevideo, La Paloma and Santa María) and 4 residents.
Patagonia
The province of Patagonia is located to the southernmost part of the nation. It's occupied by three towns ( Viedma, Annecy and Bariloche) and 15 residents.
Malvinas
The province of Malvinas is located in the western island of the Islas Malvinas. It's occupied by two towns (Malvinas Oeste and Malvinas Central) and 10 residents, making it the most populated province of Argentina.
Economy
The economy of Argentina is currently not in the first places but it's considered to be exemplar in South America. The most popular economical activities are trading, mining and agriculture.
Shop sales
As most of the nations, Argentina has many shops in its spawn so this is what makes most of the income for the national bank. The biggest towns also have shops for serving their new residents.
Mining
Mining is a popular activity amongst argentinian residents. Lots of gold and diamonds are extracted from mines throughout the nation every month.
Agriculture
All of the towns in Argentina have at least one farm with many chunks of wheat seeds. Malvinas is the largest provider of wool and bread in the country and Buenos Aires has XP farms in its /n spawn.
Sports
In the first edition of EarthMC Olympics, Argentina competed for the categories of ice-road race and duels but it only could finish 4th in duels with no more feats accomplished.
There are currently three football stadiums in the country (one in Resistencia and two in Rosario), one golf course in Resistencia and a horse racing course in Malvinas (this last is planning to be used in future national competitions). However, as most of these sports can't be played in-game without mods, they currently work as PVP arenas.
In mid-2019, there was a plan to make an ice-road course on Buenos Aires but it was never accomplished due to the lack of economical support by the government for the project.
In 2021 the Circuito Internacional de Viedma was finished, this being part of the Formula 1 official calendar. Viedma is also the FIA main headquarter.
Military
The "Ejército Nacional Argentino [ENA]" (National Argentine Army in spanish) was created on April 2019 and it is ensured of protecting the nation territory and population against threats in wars. There are no soldiers in the army as all the citizens may be part of it without any instruction process made before. The former commander of the ENA was Loogath.
Since the creation of the military, there were only two conflicts involving the country: Battle of Nuovo Palermo (defeat) and the Second Falklands-Malvinas War (victory).
Diplomacy
Argentina is part of the South Cone Union (SCU), an alliance between five nations of South America alongside Chile, Perú, Paraguay and Patagonia.
Best allies
Patagonia (closeness and members of the SCU)
France (close friends and spanish speaker)
Atlanta (close friends and spanish speaker)
Hawaiian Islands (close friends and spanish speaker)
Threats
Dominion of Inca (toxicity against La Plata for months)
Architecture
WIP
Infrastructure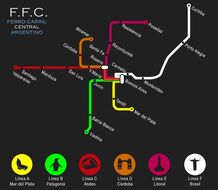 Currently, Argentina has a railway system (called Ferrocarril Central Argentino [FFC]) to move people from south to north and from west to east. All routes start at Retiro Station, located in Buenos Aires.
ROUTE A (southeast): Starts in Buenos Aires, ends in Mar del Plata with previous stop at Tandil and Claromecó. STATUS: Finished.
ROUTE B (southwest): Starts in Buenos Aires, ends in Viedma with previous stops at La Pampa and Bahia Blanca. STATUS: Finished.
ROUTE C (west): Starts in Buenos Aires, ends in Valparaíso with previous stops at Chacabuco, Rosario, Villa María, San Luis, Mendoza, and Santiago. STATUS: Finished until Rosario.
ROUTE D (northwest): Starts in Buenos Aires, ends in Miramar with previous stops at Chacabuco, Rosario, Villa Maria and Córdoba. STATUS: Finished until Rosario.
ROUTE E (northeast): Starts in Buenos Aires, ends in Posadas with previous stops at Chacabuco, Rosario, Santa Fe, Reconquista and Resistencia. STATUS: Finished until Rosario.
There is an subway system too, which was made for long journeys. It works with ice-roads and currently has the following routes:
MALVINAS: Towards the Falkland Islands (south).
TRANSANDINO: Towards Chile (west).
LITORAL: Towards Paraguay (north).
TRANSANDINO DEL NORTE. Towards Perú (north-west).
There are also tons of highways that connect towns through all the country.
Town list
As of July 31, 2020.
Name
Region
Governor
Total chunks
Population
Established
Buenos Aires
Pampeana
Mr_RockyRoll

SoyGalletita (former)

514
3
December 2018
Córdoba
Noroeste
Joigrama1

Tito_zz (former)

146
1
November 2018
Mendoza
Cuyo
fukawamei

Zinncer0 (former)

116
7
March 2019
Viedma
Patagonia
Fedrer
156
10
June 2019

Bariloche

Patagonia
Ictum

EjsuFD1 (former)

73
1
July 2019

Annecy

Patagonia
Tomdesavoie
75
1
March 2020

Llancanelo

Cuyo
nikkilarson
23
1
April 2020

Montevideo

Uruguay
SoyGalletita

JonnyGrunge (former)

122
1
June 2019

La Paloma

Uruguay
Pumpkibuu
20
1
March 2020

Santiago del Estero

Noroeste
EjsuFD1
16
1
October 2019

Santa María

Uruguay
Colovinho
15
1
February 2020

El Salvador

Noroeste
tintin_999
91
1
March 2020

Concordia

Litoral
Hannibal95
2
1
April 2020
Rosario
Litoral
PeterOrange

SoyGalletita (former)

228
1
January 2019

Entre Ríos

Litoral
owobarto

? (former)

43
1
August 2019

Posadas

Noreste
Guarguick

Loogath (former)

115
1
February 2019
Resistencia
Noreste
TawsHunter23
134
1
December 2018

Salta

Noroeste
Dam_Son
68
1
September 2019

Malvinas Oeste

Malvinas
Nikocholas
50
8
June 30, 2020
Malvinas Central
Malvinas

RimiruZ

50
2
July 8, 2020