Auckland
Town Information
Full Name
National Anthem
none
Name in Towny
Auckland
Motto
Reach The Sky
Established
3rd of October, 2019
Disbanded
Nation
New Zealand
Population
14
Chunks
212
Coordinates
Continent
Oceania/Zealandia
Government Information
Mayor
Mochoimochi
Councillors
Tobeaux, Dj92679, Iris_Sterling
Political System
Economic System
Official Language
English

Korean

Official Religion
none
Historical Information
Past Nations
none
Past Mayors
none
Past Councillors
Bloke_Magnum, Alayleo, Slimey489, Henrysmith2014
Auckland description
Auckland (previously was Bukjoknalla and Northland), is a modern style city taking over part of Hamilton, Auckland and most of the Northern area of North Island like Whangarei. Auckland is currently the capital of New Zealand and holds the record of having the most residents in a town in the history of New Zealand.
History
Auckland is a town in the North Island of New Zealand settled up North around a forest and mountain area. The town is the most modern town in New Zealand as of 2019. The town was established on the 3rd of October 2019 and as it only had started, there wasn't much except a wooden house and the mayor didn't have much knowledge back then. The town experienced grief shortly after but luckily didn't lose the valuables. The town started off with the name Bukjoknalla but was changed to Northland on the 7th of October, 2019. The name Bukjoknalla translates into Northland in Korean. The mayor, being a South Korean person named the town Bukjoknalla only to make it unique but had thoughts of changing it to Northland as the name got harder to pronounce. After having a vote of a name change, The name was officially changed the Northland. As Mochoimochi expanded the town down South, he was starting to think of changing his town's name to Auckland. After some long thinking, the town name was changed to Auckland on the 16th February 2020. The town first created "The Hurricane 2" not long after and residents were joining the town and got to expand with the help of them.
Nearby towns
Coro
Norfuk Island
Taupo
-
-
Region/Districts
Whangarei District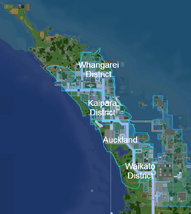 Kaipara District
Auckland Region
Waikato District
-
-
-
Community content is available under
CC-BY-SA
unless otherwise noted.