Location
Babylon is located in the Fertile Crescent (in Asia) next to Uruk and Akhad.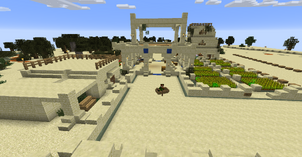 History
Origins
Babylon was created the 24th July 2019 by frigixb2 and his two friends, Fyxei and otverstiye.
It is said that before the creation of Babylon frigixb2 had met a man named Gilgamesh. He proclaimed himself King of Uruk and he told them how his city was perfect and how great he was. It is unknown if this story is true but that would be the reason to why frigixb2 started to build Babylon.
On the 28th July 2019
First days next to Uruk
The first day Babylon was created, Fyxei went to meet Pastersnacks and told him that a town was being created next to them. Pastersnacks warned them about not taking sand from Uruku.
The second day Pastersnacks came to see Babylon, frigixb2 was still building the first house when he came. He told him that he could come see Uruk whenever he wanted.
The 28th July 2019 Babylon joined Persia. The same day Grosdodo killed frigixb2 and the villager that he had just bought. Frigixb2 wanted to be refund but Grosdodo refused to refund him and told him that he was ordered by Pastersnacks to kill peoples coming from Babylon. Pastersnacks didn't told him to do that he just wanted him to watch them since someone was taking a lot of sand around Uruk. But frigixb2 was angry and he told them to never come near Babylon again. Shortly after Shruikhann a resident of Uruk came to Babylon as a tourist but at the same time frigixb2 and flash_argent were attacked by a person using a potion to be invisible. Frigixb2 blamed Shruikhann but after sometime the invisible man revealed himself to them! It was paparazi! He had already chased Fyxei in the past just to give him some strange meat. After revealing himself he gave what was "left of his last victim" and waited 30min around the town before leaving...
Frigixb2 apologized to Shruikhann for blaming him and he decided to offer a chest with many ressources to Uruk in honour of Gilgamesh the greatest hero of all time and so-called previous king of Uruk.
Flash_argent signed shortly after the "Treaty Of Uruk" which guarantees peace between the two towns and forbids mining sand in Persia.
Notable People
-frigixb2
-Fyxei
-otverstiye
-flash_argent
-Auruceus
Community content is available under
CC-BY-SA
unless otherwise noted.