Bangkok
Town Information
Full Name
Krung Thep Maha Nakhon
National Anthem
Name in Towny
Bangkok
Motto
City of Angels.
Established
16th of November 2018
Disbanded
Nation
Indochina
Population
31
Chunks
447
Coordinates
Continent
Asia
Continent
Asia
Government Information
Mayor
Fluxeeh
Councillors
Political System
Unitary parliamentary constitutional monarchy
Economic System
Mixed Economy
Official Language
Thai
English
Official Religion
Buddhism
Historical Information
Past Nations
Siam
Past Mayors
Raj Prasong Rama II
Past Councillors
Bangkok (UK: /bæŋˈkɒk/, US: /ˈbæŋkɒk/) is the capital city of Indochina. It is known in Thai as 
Krung Thep Maha Nakhon (กรุงเทพมหานคร, pronounced [krūŋ tʰêːp mahǎː nákʰɔ̄ːn] or simply Krung Thep. The Chao Phraya River runs through Bangkok and then empties into the Gulf of Siam, where the town is next to.
History
Founding of Bangkok
Bangkok was founded by Emperor Fluxify and Field Marshal Fox, the town of Bangkok was formed on November 15th, 2018 with Fluxify becoming the first mayor of the newly established town. During this time, Fox went on a mission to Byzantium and met with the Augusta Florene to discuss the possibility of colony in Asia for the Byzantine Empire, she agreed which created the Byzantine Colony of Bangkok.
The Arrival of Augusta Florene to Bangkok
On the 15th of November, Augustus Florene arrived in the Port of Bangkok from Manila and was greeted by the people. She came presenting gifts for the locals for welcoming her.
The First Military Operation
On the 16th of November, citizens of Bangkok accused BiscuitLee and SuperWilly, who were residents of Willyburbia, of stealing cows and wheat. Fox proceeded to sail to WillyBurbia and ransack the island in front of them which they did nothing about.
Work towards the Chumphon Canal
On the 18th of November, after Bangkok was quite built up, the Chumphon Canal was constructed by officials from Bangkok and officially became a town in Siam on the 18th of November, 2018. The canal connects the Gulf of Thailand to the Bay of Bengal, this cuts time a lot and saves time going around all of Malaysia. This opened up many good opportunities for traders to trade with Siamese citizens.
Bangkok Wall Construction
In December, it was announced by Fluxify that a wall would be constructed around Bangkok which would protect the city from potential threats and make the citizens feel more safe.
Grand Palace Construction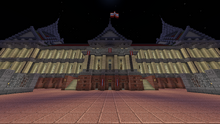 In March 2019, the castle was being demolished and plans for a replica of the Grand Palace in Bangkok were made by Raj Prasong. In April, the Grand Palace was completed, it is now seen as one of the Great Wonders in Indochina.
National Assembly Construction
Siam was in need of a building for the Parliament and other parts of Government so the National Assembly began construction in early 2020.
Modernization
Fluxeeh wanted the capital to be bigger and look nicer so Bangkok removed the town wall, began expanding roads and making homes for new citizens. New attractions were built such as the Bangkok Stadium and Democracy Monument. There are also plans to make a new shopping district in the city which will have many shops and offer many products for consumers, which will bring more attention to Indochina.
​​​​Attractions
The Grand Palace
National Assembly
Indochinese Army Headquarters
KokMart
Bangkok Stadium
HIMS Saiburi
Democracy Monument
Wat Chai Temple
Accordo Gardens