General
Birdsville, officially
The Metropolis of Birdsville, The Australia Realm
, is an Australia Town located in Outback. It is also the Only Australia Town in Outback, Australia Defence Force Pioneer Base and The second most populated town in the nation. The mayor is KehoeW, Colonist of Australia and Australia Defence Force Head General Officer.
History
The town Glencore is established in 5/14/2019. Then it is sold to KehoeW (KehoeWan). After some days, its town name changed into Pioneer Base and return to Birdsville later. KehoeW started to play server again in August 2019 and received some town members included Ex-Co-mayor Mordaxxe and Co-mayor/ senator Shenji25. Shenji25 brings lots of his friends to the town and the population rise to 21. When Duzy disbanded Canberra and hand Emperor to Billykaplan666, KehoeW becomes Colonist and now it is one of the major city of Australia.
Geographical

The town located in Outback, in a Terracotta terrain. the terrain is destroyed heavily nearby. It is located next to some Queensland towns so it is suitable to be the ADF base. The town shaped like a rectangle of 11x6 and most plots are sold.
Notable person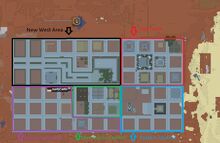 Friend Cities
Cooma | Jindabyne | Wy | ChangSha | Mildura | Canberra | Greenway
Projects
Macao-Birdsville Underground iceway project // longest iceway in the world, connecting Australia and Han Iceway network
City Council
The Metropolis of Birdsville City Council is Lead By Mayor KehoeW and Co-Mayor Bemosi.
Embassies
Discord
the Birdsville town Discord is https://invite.gg/bir
Community content is available under
CC-BY-SA
unless otherwise noted.