Carúpano
Carúpano is a coastal town located on the north coast of South America, between Trinidad-Tobago and Caribe Bay. The town itself has 154 chunks and 11 residents.
History
Founding
The Town of Carúpano was founded on March, 17th 2019 by the player EL_Prezy. It is located Between the towns San_Francique and Porlamar.
Joining A Nation
Started as a lonely tribe, Carúpano gained by time more residents awhile getting a lot of support from the town San Francique, thus convincing Carúpano (then known as Patapoils) to become a part of the Trinidad and Tobago empire.
Population
Over time Carúpano gained a large population eventually reaching the max limit of players (then 50), so the mayor EL_Prezy decided to get assistants to help him manage the town. He assigned HendyDE and NigelBurke to be the Councillors of Carúpano.
Over the summer of 2019 unfortunately the population of the town declined. The population of the town is now growing again though, and the town boasts the 3rd biggest population in New Spain.
On the 29th September 2019 Porlamar fell into ruin. The area Porlamar had occupied was then divided up between Carúpano and Caribe Bay. Carúpano annexed the eastern part of Porlamar and Caribe Bay annexed the western side. The annexation lead to Carúpano bordering neighbouring Caribe Bay.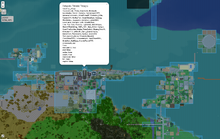 Buildings
- Carúpano spawn point
- The Great Obselik
- Sacred Altar
- Watch Tower of Carúpano
- Bank and Embassy of Carúpano
Notable People
Community content is available under
CC-BY-SA
unless otherwise noted.