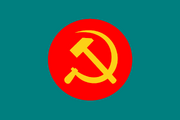 The main article for this category is KAPSK.
KAPSK (Towny nation of Casey) is a nation in Eastern Antarctica, created on 22nd February 2020 by DiamantAxt9494. Its capital is Mossow, founded on 3rd December 2019. It currently houses roughly 20 people and has 3 towns. The nation always had a pretty isolated nature, which the gouvernment attempted to overcome multiple times, however, fear of being killed in the wilderness is always present among most citizens, which led to the closing of the /n spawn for long periods of time (most notably from April 2021 to September 2021). The gouvernment is now trying to open the nation to the world once again. Nevertheless, Casey has been a fairly large power in Antarctica, being one of the oldest still existing nations on the continent.
Notable People
DiamantAxt9494
Leader and Founder of Casey

DiamantAxt9494 (better known as Diamant) is the current Leader of Casey and founded both the nation and its capital, Mossau. His residence is Hauptstraße 1 in the initial chunk of Mossau. Joining the server on 2nd December 2019, he, unsurprisingly, was a key figure in the rise of Mossau and the town's expansion.


Read More
MisterRobTob
Supreme Chancellor of Casey

MisterRobTob (also known as mrt and Bärbel12) is the Supreme Chancellor of Casey since March 2021 and played an important role in the evolution of the nation and Mossau. Since late 2020, he is an active player on EMC. As his residence, he built a large glass dome at Elchwinkel 2-3, Mossau.


Read More
Towns
Mossau (16 Residents, 138 Chunks): Capital of the Nation since 2020-02-22. Established 2019-12-03.
Gansestadt (5 Residents, 33 Chunks): Second largest town of Casey. Established 2021-06-21.

Turtlantys

/Krölitz (1 Resident, 5 Chunks): Town south-east of Mossau led by scientists. Established 2021-03-05.
Trending pages
All items (31)