Chekhograd is town located in nation of Siberia . Lead by Mayor Protiva1997 (YTmanCzech ) nad Councillor Jelda7. It was created on 30.01.2020 about 11 PM GMT +2.
Town name
The town's name have meaning like Czech Town or Town of Czechs. Chekhograd was chosen on 30.01.2020, as same day as town was created.
Economy
Economy of town is based on all ice types, animals, villagers, plants (wheat, carrots, sugar canes). Most of gold ingots are mined from undeground of Siberian highlands. 
Travel information
The best way is from the capital of Siberia , Katyryk (/ n spawn Siberia), local subway to Kheta and former Kresty , then subway (30 seconds) or walk (2 minutes) to Chekhograd. In the case of shipping, the Severstal Yard - Vangash - Pevek - Chekhograd water tunnel can be used, which is new and needs to be improved. The ice track from the east (Yakutia ) is not exactly safe but it works.
Main citizens
Protiva1997 (former YTmanCzech ), mayor, founder
Jelda7, coucillor, founder, main builder
City map (22.03.2020)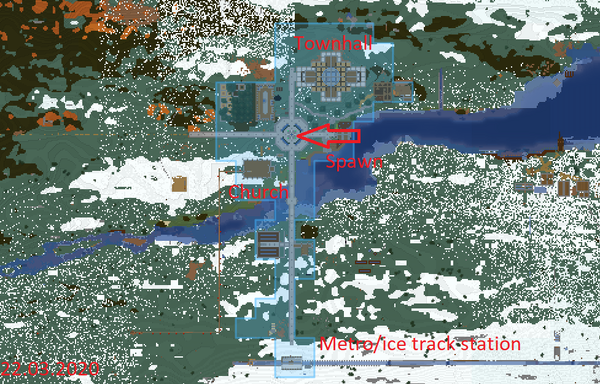 Gallery
Community content is available under
CC-BY-SA
unless otherwise noted.