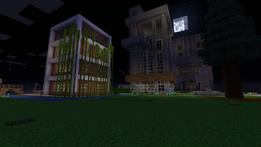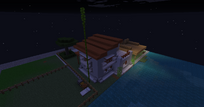 Location and Size
Chittagong is a town in the nation of Siam and located in Bangladesh. It was created by roddsteel18 and is owned by him but the owner regularly switches with the player kupolazyboy. It has 9 residents and is 23 Chunks in size as of the 3rd of April.
Connections, Neighboring Towns and Key Residents
The town is slightly north of the actual location of Chittagong and is connected to Dhaka by a road known as "9R4 Parkway " The town has a statue in memorial of player 9R4 and also a tower he built. 9R4 built some of Chittagong and left to create "Khulma" which is meant to be spelled "Khulna" and has not logged on since he created it. Chittagong is a work in progress and may change greatly soon. kupolazyboy has been a resident since the start and has done a lot for the town.
The Travel House is a small stone brick and birch wood building which has a set of stairs going down into the ice road which goes to Dhaka and Khulna
Chittagong has a cross made out of diamond blocks near the center of the town and a brick building named "The Plaid Parlor" at the spawn. The mayor has a house in the "Suburbs" Area of the town at Spawn there is a Bob Ross map art and on the bridge there is a Pink Floyd map art and a Led Zeppelin one. (The owner of the town is a massive Pink Floyd fan) There is an underground Central Hub which looks very nice and was built by 9R4. There is a nether portal which sadly freaks out and makes new nether portals all around the outside of the town when you go back through it.
The Griefing
Resident DAKI_UZIMAKI joined in the early days and roddsteel was new. He said can I have trusted rank please. And roddsteel18 said Ok, Whats that. He was given trusted and he left the town and stole all the chests, Greifed the spawn and roddsteel18 was furious. Luckily the town recovered from that. 2 minutes after he griefed the town, He got banned for alting. 9R4 tower is now an embassy plot.
Chittagong is currently under Mass renovation as it seems neglected and rather ugly. roddsteel18's town Sylhet which he owned during the time he was trying to get Chittagong back due to a changing username glitch. roddsteel18 has noted that he prefers Sylhet's style way more than Chittagong's and he is going to incorporate the style into Chittagong.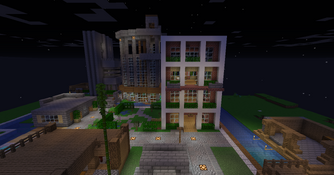 Community content is available under
CC-BY-SA
unless otherwise noted.