The battle of Kraftier was a conflict between Coolgamer127's side and kobiKraft's side. The battle was started when Coolgamer127 raised an army in Ethiopia and ran west into Kraftier in order to kill kobiKraft. This operation was possible because of Ethipioan leader JackJacksion showing eager volunteers the way to Kraftier by setting up signs to help navigate westwards toward Kobi's town.
People Against Kobi
Coolgamer127
_Mocc
D4RKLUK4AS
Odditylol
Hydro78878
Xx_YuMu_xX
JackJackson
UghBraces
Qukkny
57starkiller
Players with Kobi
KobiKraft
Daniel10a
TheSuperGamer205
MyTotoro200
Cherrycoke77
Result
Coolgamer127's side declared victory when kobiKraft said he was too outnumbered to fight.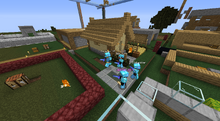 Community content is available under
CC-BY-SA
unless otherwise noted.