The Dildo's Dildo (formally Dildo's Dildo, in Dildo) is a National Monument, religious symbol for Pissism and UNESCO World Heritage Site in Dildo, Avalon built by Riley_McDonut. It is a statue made out of Magenta Concrete in April 2019 that stands a certain amount of blocks high. It vaguely resembles a mechanical device known as a Dildo although it's shape and name is only a coincidence.
It is named after the city it resides in, hence the name Dildo's Dildo. Along with that, a Dildo is slang in the region for a device used with a rowboat which explains the shape. the Dildo's Dildo is a symbol of the religion of Pissism, a religion centered around the same general location. the Dildo's Dildo is currently in the middle of moving locations to accommodate a museum titled "the Balloseum" so tourists won't be able to see the Dildo's Dildo in Dildo at the moment.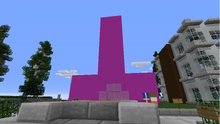 Religious importance
According to Pissist tales, Riley_McDonut founded Dildo after Pee Pee Island had been founded by Dabs_All_OvarYT. Riley grew suspicious of Dabs, until he had a vision of The Ball God. The contents of the vision are not recorded, but Dabs' vision is recorded. It is said that Riley knew that his destiny was to befriend Dabs and so, he built the Dildo's Dildo to honor The Ball God. It was, at the time, the largest Pee Pee, but it is very probable that a larger Pee Pee has been built.