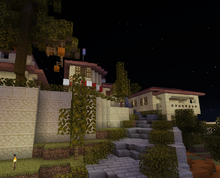 Eden's Gate is a town situated on the hills of the northern coast of Africa. Located in the Greater Roman Empire (GRE) province of Numidia. It is ran by the Numidian governor Shlomo_Goldstein and was incorporated on June 3, 2019. The town had a population of 3 as of July 25th, 2019.
Eden's Gate is still in its early development stages and has not allowed anyone but party officials to move in yet. When finished the city is planning to host large scale casino venues, hotels and resort activities as the entertainment capital of Africa and to be a getaway location for the wealthy and prosperous of Numidia and the Roman Empire.
Locations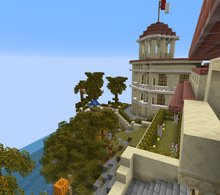 Balcony District
The Balcony District is a district located on Vicenius Hill facing the Mediterreanean coast and is the home to the city's most important buildings and wealthy elite. The city treasury and governor's palace are among the many buildings situated on the shoreline of the Balcony District.
The name of the district is deprived from the many gardens and balconies that are located in this area.
Vespasian Square
Vespasian Square is still under construction
Community content is available under
CC-BY-SA
unless otherwise noted.