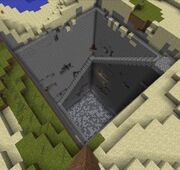 Holism (Hole-ism), is a religion created in Svalbard. It worships large 10x10 down-to-bedrock holes.
Foundation
The religion was founded in December 2019, by Carrick100 and Treepapi. It considers making HOL's, which is considered "Happy Labour".
Members
Members of Holism
If you are part of this religion, you are also allowed be a Plankist.
This religion is against Beeism.
Community content is available under
CC-BY-SA
unless otherwise noted.