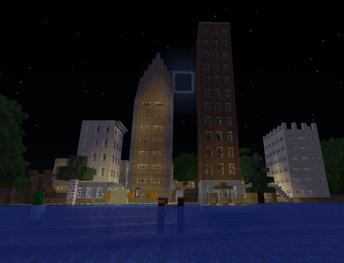 Huron City is the Oldest city in the nation of Michigan. It is located on the Saginaw penninsula North of the real life city Detroit.
History
Huron City was founded after Beaverman1s city Cascade Bay in Northwestern America fell to ruin. The location was chosen to be away from any big citys.
Virginia Age
The first nation Huron City joined was Virginia. They intended to join Ontario but Anorse reached out to the city before they could, inviting them to Virginia
Creation of Michigan
After awhile of peace in their location, new city started popping up everywhere. new city such as Flint, Alpena, and Chippewa. Eventually he confronted the city makers and grew to become friends with them. Eventually they made a nation called Michigan. After staying in Virginia they finally decided to join Michigan.
Buildings
This is the basketball arena that the basketball team "The Glaciers' Play inside of. There are rumors of a Mega-Arena being built to replace it but its still the biggest Basketball stadium in the world (Dedicated Plots). It is located in the Saginaw District.
This Prison was built mostly for decoration as prisons aren't usually needed. But it is still a beautiful landmark of the history of Michigan.
This is a building soon to be finished that will host the official Huron City History Museum. It is located in the Sanilac District.
This cowboy style skyscraper right in the heart of the Saginaw District is a beautifu peace of land.
Notable People
Beaverman1 (Owner)
OST999 
Districts
This city consists of 3 Districts. The Sanilac District, The Saginaw District, and the Tuscola District. The Sanilac District is the southeastern district. It consists of the spawn, And borders Lake Huron. The Saginaw District is the southwestern district. it consists of mostly houses, with two skyscrapers and is the second largest district. It borders The Saginaw Bay. The Tuscola District is the largest of the three. It has not been fully made but will consist of the biggest skyline. and the future spawn of the city. It is still being planned out.
Community content is available under
CC-BY-SA
unless otherwise noted.