Jamtland is a neutral Norrish (Norrland) town that falls on the border of Norway. 
Rules of Jamtland
In order to keep Jamtland fun, we ask that players do not attack other players who are on town property.
We also specifically ask that players do not stand outside of town property and fire arrows into the town at players or mobs. If you break this rule, we will jail you.
Citizens of Jamtland are not to attack visitors unless provoked. This is to ensure that players who are coming to the town to either explore, shop, or join can do so easily.
Feeding the animals is prohibited unless permission has been given by Casper_2001, loljelloclowdz, or Jouny. This is to prevent the accidental de-spawning of mobs from overbreeding as well as the poisoning of parrots, which take hours spread over days to find.
Finally, we ask that everyone makes themselves at home. Allow the gentle Scandinavian atmosphere whisk you away as you build, shop, and explore the town, and please be mindful of fellow residents and visitors.
Citizenship
Citizenship in Jamtland is free, no matter who you are.
In order to gain citizenship, players must come unarmed and without any weapons in their hand. (This is so the iron golem and the snowmen don't destroy you.) Should you peacefully enter the town and someone in the town kills you, please alert us on our discord - ☀https://discord.gg/Z4f579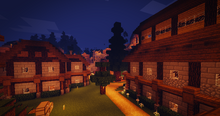 (You are welcome to join the discord regardless of your citizenship status.)
Logs will be checked, so do not false report!
Check out our categories to learn about parts of the town:
Community content is available under
CC-BY-SA
unless otherwise noted.