Kosice

View on the central part

Town Information
Full Name
Kosice
National Anthem
Name in Towny
Kosice
Motto
Established
11th of March 2019
Disbanded
Nation
Polish Kingdom
Population
33
Chunks
138
Coordinates
Continent
Europe
Government Information
Mayor
3meraldK
Councillors
_xFlyingEagle
Political System
Economic System
Official Language
Official Religion
Catholic
Historical Information
Past Nations
Polish State
Past Mayors
Past Councillors
SSziom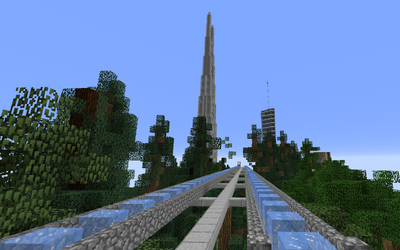 Kosice is a major city located in Eastern Slovakia, bordering with Austria. The first town of Kosice was founded by TypowyPLBatman on 7th of December of 2018 but disbanded two months later. 3meraldK reestablished this city on the 11th of March 2019. Now, a city of Kosice is the most populous town in Poland having 33 residents and claiming 130 chunks.
History
Founding Kosice
TypowyPLBatman founded Koszyce in beginning of December 2018. Before its fall, it had a road and some houses next to it.
Great Moravian Empire had also a claims to the Slovakian part, and Kosice city wasn't in GME so their government demanded Kosice's comeback to GME. The Polish government and mayor have declined. In this situation, GME declared war on Poland. Small Moravian force went to Kosice when GME declared war on Poland. Eventually, a fight broke out, and 2 lines stood against each other. The Moravians lost 2 untrained and badly equipped soldiers while trying to get in line north of Kosice, while the Polish forces made a line to defend Košice inside it's claims. Few rushes were made, but no significant damage was done to either side. Finally, Moravian forces withdrew, making the Polish defense of Kosice successful.
Massacre of Kosice and its fall
Kosice was disbanded by then-mayor, TypowyPLBatman and massacre was made. Small polish division burnt houses, they also destroyed road and killed all animals in a barn.
Founding new Kosice
Two months later, on 5th March 2019, 3meraldK entered the game for the first time. He wanted to found a city on Krakow's ruins and he founded a town called Metropol, but after the dissatisfaction of many Polish citizens, he changed his opinion and founded Kosice.
Golden Era
At the beginning of April 2019, Koszyce developed a lot. Two high skyscrapers, shops and hotels were built. At the end of March, they built also a jail and farm.
Thisek Double Tower
Thisek Double Tower was built in the summer of 2019 and it's the highest skyscraper in Poland. It's tall for ~150 blocks and has two enormous towers merged in one skyscraper.
Industrial Era
Thisek, the famous player in Kosice, suggested to build an enormous space for industry things and to grow town's economy. He spent 250 gold and started to build underground farms etc.
Populous Era
It all started in the beginning of April 2020, or in late march 2020. It was caused mainly by the fact Polish population were dropping a lot, then Kosice's mayor has started to invite as many citizens as he could, and gained 28 citizens in the last month.
Buildings and Architectural Wonders
Thisek Double Tower
"S.R.A.C" Laboratory
Mill and medieval house
Ancient castle in Eger
Anime Tower
SSziom Tower
Ancient ruins of Kosice
Raids
Skirmish under Kosice city
Battle of Mazovia
Partner cities
Community content is available under
CC-BY-SA
unless otherwise noted.