Maluku
Flag
Territory

National Information
Full Name
Kingdom of Maluku
Population
~ 40
Chunks
~ 500
Capital City
Angar
Established
April 1st, 2020
Disbanded
Government Information
Leaders
Sakkea4444, Remcodd
Official Language
Religion
Religious freedom. Representation of Vatican City and Peeism
Past Capitals
About
Maluku is a nation in the eastern part of the Malay Archipelago, led by King Sakkea4444. It is known for its architecture, such as the cathedral and the canals, its culture (such as the Historical Museum) and for its commerce (the various shops including the famous Angar mapart store)
The nation was created in early 2020 and has multiple towns scattered across the East Indies. By linking two iceroads, Maluku functions as an iceroad hub for the connection between Asia and Australia.
History
Maluku was first formed on April 1st, 2020, by the mayor of Angar, Remcodd, and his co-mayor, Sakkea4444. Their town before Maluku's creation was named Angar. They then proceeded to recruit other towns and make new ones. A list of them includes Buton, Dolok, Maccerland, Ding_Dong, Kupang, Sissie, Karas, Angar, Ambon, and Trangan. A former town of Maluku was Balikpapan.
Creation of the Maluku Underground
A few days after Maluku's formation, Remcodd and Sakkea started construction on an underground ice road/metro, the entrance of the latter inside a lighthouse near the n spawn. As of right now (May 7, 2020), the ice road, or known as the Maluku Underground, has a total of 5 stations going through 2 nations and a nationless town. It starts from the east at Angar, the capital. It then goes westwards. A couple months later, connections were added to Majapahit and Darwin, turning the Maluku Underground into a connection between Asia and Australia. 
Fall of Angar
In may of 2020, Angar has fallen due to the use of a wrong command by one of the owners. The announcement of the fall of Angar led to an instant raid and a big pvp battle. Noteworthy monuments such as the Maluku Historical Museum and the cathedral were completely looted, among the central storage space. A few hours later, Angar was recreated and reclaimed most of its territory. It also regained the capital status of Maluku. Even though the town recovered, it has up to this date not reached the same size and amount of citizens as before the fall.
Government 
King
Remcodd (beginning - april 24th 2020)
Remcodd was the mayor of Angar and the king of Maluku from April 1st to April 24th, 2020. He was the original mayor of Angar, with his friend Sakkea. During his reign, he got many citizens and people willing to either join Maluku or make a town that will be part of Maluku. On April 24th, 2020, he decided to step down as King Of Maluku, as he had gotten recent controversy with some map artists. He gave the role to Sakkea, and Remcodd now works behind the scenes in Maluku, while Sakkea leads Maluku.
Sakkea4444 (april 24th 2020 - now)
Sakkea4444 is the current mayor of Angar and the current king of Maluku from April 24th, 2020 onwards. After his friend Remcodd stepped down from king, he started developing the town more, and he got more towns to join Maluku. 
Diplomacy
Maluku is a member in two alliances, the Rajasa pact and the Union of Oceanic States. Besides these two group alliances, Maluku also has bilteral alliances with many nations, such as Kaapkust and Kingston.
Gallery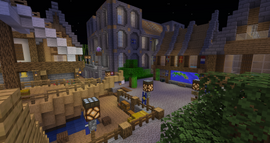 Community content is available under
CC-BY-SA
unless otherwise noted.