Masoarivo
Established on the 7th of December 2018, it was one of the first towns on Madagascar's western coast. It is particularly unique on Madagascar because of it's tall skyscrapers found nowhere else on the island. It serves as Madagascar's connection to Marromeu on mainland Africa through the rail tunnel that is located here.
History
Westono landed on Madagascar and was warmly welcomed by its people. They helped him settle after he found a suitable spot on the western coast of the island, where he built a small wooden house that stands to this day.
Masoarivo's port was used during the Coffee Bay conflict, where Madagascar's men boated out to fight.
In recent times, Masoarivo has seen steady growth and the development of new buildings.
In March of 2019, Barbasmas set up Barbtopia, a suburb located next to Masoarivo in the river valley to the east. It is connected to Masoarivo by a number of roads. Both mayors are working together to build prosperous urban and suburban areas in the hopes of bringing life to the western side of Madagascar.
Landmarks
Bisk Tower IV
Bisk Tower IV is most likely the tallest skyscraper in Africa, and is located in the heart of Masoarivo. It started construction in late January 2018 and was completed soon after. It dominates Masoarivo's skyline.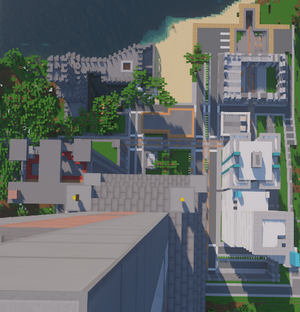 Fort Masoarivo
This fort is the second thing to be built in Masoarivo following the town house. It features a small watch tower and a small enclosed dock. This was the place Madagascar's warriors sailed out from on their way to Coffee Bay during the conflict.
Masoarivo Train Station
The second tallest building in Masoarivo is its train station which is found inside another skyscraper. The rail line from Astronautica and Sainte Marie connect to it, along with the rail from Marromeu. This station features Masoarivo's first bathroom! It will soon have a rooftop nightclub.
Notable People
Westono - The Mayor and first settler.
Deetro - Pal of Westono, resident for a day.