New Snork is a hamlet at the Antarctic coast near Mossow founded by Baron _Rilex_ on 25th February 2020. New Snork is the second largest town in the nation of Wilkesland.
History
Early History (25th February 2020 - 2nd March 2020)
On 25th February 2020 _Rilex_ was tired of living far away from the coast. He wanted to create a town at the coast. He stored 250G without knowing that there were taxes in Mossow for about 2 months. DiamantAxt and _Rilex_ looked for a good place to create the town. The town was then created at about 5 PM CET. _Rilex_ started to look for people selling light grey concrete. First he didn't find anyone but after some time he found a player selling it. He ordered 9 stacks and built his house a day later. On 27th February 2020 the ice road Coast - New Snork was finished. For the next days _Rilex_ built his house peacefully with some disturbations though. Because of the Zwiebelkrieg there were players sieging New Snork. On 2nd March 2020 FKHH73 left Mossow and joined New Snork.
Building era (3rd March - June 2020)
On 3rd March 2020 _Rilex_ and FKHH73 finished their houses. A day later Rilex started to build the melon farm he also had in his house in Mossow. It was finished on 5th March 2020. Earlier that day a player tried to blow up the Leadenhall Building in Mossow so Rilex and DiamantAxt9494 managed to kill the assassin.
Inactivity era (June 2020 - 13th October 2020)
In the following months Rilex was inactive, FKHH73 left New Snork and started a town on Franz-Josef-Land where the KAPSK colony was.
Revolt Era (13th October 2020 - 3rd December 2020)
On 13th October 2020 DiamantAxt9494 carried out a house search in Rilex' house since he was accused of nine times of tax evasion. DiamantAxt9494 found 956G of evaded tax in one of Rilex' chest so the gold was confiscated immediately and put into the nation bank. Rilex, however, was Chancellor of KAPSK and could access the nation bank so he stole the gold again. Under pressure from the gouvernment Rilex paid the nation 170G which was way less than the evaded tax. Not wanting to pay the full fine and tax, Rilex announced, that he would declare independence and start a new nation. Diamant took drastical measures and removed Rilex from the office of Chancellor. A few hours later he also kicked the town out of KAPSK. On December 1st 2020 Rilex created the nation of Wilkesland. Diamant announced, that KAPSK would not recognize New Snork's independence since, according to KAPSK, the declaration of independence was not legal and officially declared war on Wilkesland on December 3rd 2020.
Phoney War (4th December 2020 - 1st February 2021)
As of 14th January 2021, though war was declared, there weren't any major battles between Wilkesland and KAPSK. The only thing that did happen so far, was the blockade of any ice roads and railroads leading to Mossow.
On 1st February 2021 truce was settled however there was no peace treaty.
Architecture
The houses in New Snork are mostly build out of concrete in a modern style with big windows. There are two similar-looking houses and the ice road station which is on Y 168. To get there people have to take a water elevator. On 6th March the construction of the town hall begun.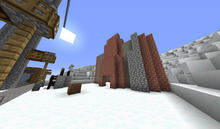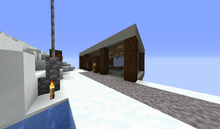 Notable people
| Skin | Name | Role | Notes |
| --- | --- | --- | --- |
| | _Rilex_ | Mayor | Leader of Wilkesland |
| | | | |
| | | | |