Description
The Norway Realm is a nation that exists on the west and north coasts of the Scandinavian peninsula. It originally only inhabited the city of Oslo, but in January/February of 2019 it rapidly expanded and took the place of the old Norway.
History
Early History and Development
"Norge" was the original name of The Norway Realm. This is because at the time of its creation, there was another nation named Norway which occupied the majority of the west and north of the Scandinavian peninsula, while Norge only consisted of the city of Oslo.
This changed drastically when, in January/February of 2019, with the support of Denmark, Norge expanded outwards, particularly around Oslo (notably Ljungskile) and in the north of the claimed territory (notably Tromso and Boxholm). This resulted in Norge overtaking the old Norway as the most powerful nation in western and northern Scandinavia. Eventually, the old Norway collapsed and Norge was renamed as Norway.
Endings
On the 29th of March 2019, Norway's leader, Magenent, announced on the nation's discord that he would be selling Norway to Denmark leaving the following remarks:
"I am going to be leaving Norway, I will be selling the town of Oslo to the Danes. I am going to be a founder of the Super-Nation of Niger, I am leaving due to the fact that most of the nation is inactive. I would love if you guys could come with me and make a town in Niger, that would (in my opinion) be the best option as even though our community isn't active it is still very nice. If you however do not want to leave I would highly recommend to join Denmark as they are very nice people that will be able to protect you and they have been our closest allies in the past (along with Britain)."
Towns
As of 29/3/2019, the towns in Norway are:
Oslo
Tallinn
Ljungskile
Boxholm
Tromso
New USA
Arendal
peppapig
Bodo
Turlock
Taufr
Jotunheim
Bergen
Kalos
kattegat
Maps

.
.
.
.
.
.
.
Key:
Black Line = Train Line
White Circle = Major Stops/Stations
Red Circle = Stops/Stations that have lines going separate directions
Yellow Circle = Dead-End Stations
Buildings
Norges Riksmonument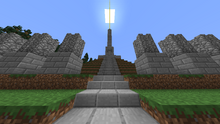 The Norges Riksmonument is a large monument in Oslo. It is based on the real life monument of the same name in Haugesund, Norway. It is a large pillar featuring a beacon and gold ore featuring a beacon and gold ore on the top of a hill surrounded by paths and smaller pillars.
Community content is available under
CC-BY-SA
unless otherwise noted.