Queensland is a country located in Australia, ruled by Julien_1800 but founded by the French YouTube personality FuzeIII.
Queensland is currently the eighth biggest country on EarthMC with 162 inhabitants.
History
Political System
Queensland has no official political system and is based on a Dualist Monarchism and YouTube Cult of Personality in which, Fuze III makes the majority of decisions with his right hand man Julien_1800.
Military
Queensland has officially enacted the Conscription system but in facts there are 13 active members in the land Army
In the Air Force, Queensland has two "Bombardiers 2000", it's purpose was to be an experimental airplane created by Fuze III and was supposed to bomb targets with TNT. This couldn't happen as the Towny Plugin makes griefing impossible.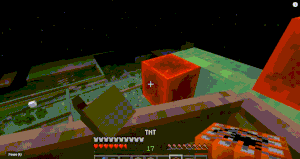 Location
Location in Australia. Queensland is in dark green
Community content is available under
CC-BY-SA
unless otherwise noted.