Pre Terra Nova
Before Terra Nova, the leader of Rhodes was first going to be Alexandria (as a free city in Portugal). After the fall of Portugal, he joined Texas, then later joined Constantinople. (after the beta)
Districts
Rhodes has 15 districts over 4 main Islands.
The Islands in order of Addition to the City:
Rhodes
Alimia
New Occitania
Symi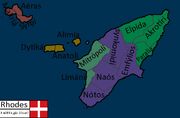 The Capital District is Mitropoli, but the main harbors are Limani (for between the 2 off island districts) and Akrotiri (for the outside world)
History
The History of Rhodes began on Nov 4, 2018 (Close to Year 2 ad of the Roman Calendar) when the leader left Constantinople to form Rhodes, shortly after they joined Byzantium. They started to expand on the island shortly after beginning on the underground storage area, which was complete shortly after. On Dec 2, 2018 Rhodes has experienced a change of leadership after Koleynu handed the power over to Solariu. Since then a series of reforms have taken place (economical, architectural etc).
Timeline:
Month 7 of Year 1 AD: Rhodes was Founded
Year 2: Started Expanding
Year 3: Worked on clearing out the island
Unknown Month of Year 3: City was offically expanded to both sides of Rhodes
Year 4: Started on the Church of Rhodes
Month 4 of year 4: City was Officially expanded to another Island. They called the new island New Occitania, after the area of where the majority of the city was from (due to the Knights Hospitaller being here for a while)
Buildings and Architecture
Trading Docks
Storage
Town Hall (WIP)
Barracks (WIP)
Community content is available under
CC-BY-SA
unless otherwise noted.