Overview Edit
The Salish Federation is a large nation in the Pacific Northwest region of North American. Salish has a Parliamentary Direct Democracy comparable to Switzerland, and some of it's biggest cities are Seattle, Wenatchee, and Edmonton.
The nation of Salish was founded on the 9th of February, 2020, by Vorobyevite with the following towns of Wenatchee, Seattle, Schaumberg, Bend, and Winthrop. Multiple other towns have joined after that date, becoming the nation that it is today.
Separation and Cascadian BacklashEdit
On February 8, 2020, the founder of Cascadia, RangerMK01 who is no longer residing in Cascadia, stepped into Cascadian politics and announced that the next in line for President if the current president resigned would be Vice President LawOfRence of Port Angeles, to which most the government agreed to. This scenario was brought about when Estonian_Mapping suggested that he step down to help directly develop the then Province of Ontario. This caused a backlash in the Cascadian Discord, to which former senators JTPilfered, Vorobyevite, and 32Oreo argued that it was not outlined in the Constitution on what was to occur, and requested a special election to be held rather than an appointment of the Vice President, by a foreign entity no less. Their respective towns gathered to form a peaceful separatist group known as the Salish Federation, which viewed Cascadia as to have fallen to a Monarchy under Ranger. When communications between Federation members was leaked, this was met with immediate backlash from the Cascadian Government, who announced these people as traitors to the state. A trial was announced to occur on 2/14/20, Valentine's Day of that year. After being kicked from the Cascadian Discord on 2/11/20, all members have refused trial. The trial was eventually cancelled, as the defendants refused to show up. The first chancellor of the Salish Federation and prominent leader in the movement was Vorobyevite. 
Skirmishes with Washington Edit
Members of Washington and the greater Rio Grande Federation increased tensions on February 15th, when one member of Washington threatened the town of Winthrop and the mayor, SayerQT, to return to Cascadia or death. In result, SayerQT was killed after refusing to return to their previous government. Washington militants remained active in the Wenatchee afterwards until two Salish members (SayerQT and JTPilfered) were caught outside claims in Paraguay in collecting melons and leaves, prompting an attack on them, killing them both.
On February 19, 2020, JTPilfered and BonZZil had a standoff at around 5:00 PST in the Salish Parliament Complex in Wenatchee, which almost 1/3 of was unclaimed. During the standoff, reinforcements came from both parties, which from Salish included CaptnClutch of Jefferson, and SayerQT of Winthrop, the latter of which did not fight during the battle. The battle ensued which saw CaptnClutch lose his life by accidentally setting himself on fire via lava bucket. This battle has been named by some the Battle of Parliament, and that name has stuck. War was declared by Salish upon Rio Grande soon after. This was also the first peak of Salish Population with around 26 people in the country at this time.
Sunset Confederacy, JTPilfered's Chancellery, and Increased Inactivity Edit
Soon after Salish declared war on Rio Grande, the Sunset Confederacy was formed which is a military alliance that encompasses large swaths of the American West Coast. The member nations include; Salish, Jefferson, California, North California, Rough and Ready, Glacier Bay, and Haida. For more information on this conflict, see Cascadian Civil War. On March 1, JTPilfered of Seattle was elected and inaugurated as the second chancellor of the Salish Federation. The first half of his term saw expansion and development, with the war going on as well. During the second half of the term Rio Grande offered a white peace agreement that would mean giving 100g to Rio Grande per nation in the Sunset Confederacy. JTPilfered, and in turn Salish, voted no on the deal. Towards the end of march many players from Salish became significantly inactive, such as most of Wenatchee, most of the Pacific Republic, and all of Seattle except for JTPilfered. This resulted in the nation bonus going down and the nation falling into a bit of a slump, with the nation status going from a Dominion to a Federation
Sayer's Chancellery and Rapid Growth Edit
On April 1st, 2020, JTPilfered announced that Seattle was leaving Salish due to the fact that the chunk bonus was declining and he wants to be able to expand. In his declaration, he said that he would come back to Salish if it got out of its decline. He also endorsed SayerQT of Winthrop for the position of chancellor, and she unopposed and was declared as the third chancellor of the Salish Federation. She had many plans on reviving Salish and many of them worked out. The first major thing in her chancellery was inducting the Canton of Southern Ocean, led by Ayr_, into the Salish Federation. On April 17, 2020, Seattle became the in-game capital of Salish, switched over from Wenatchee by JTPilfered, NoneAvailable, CaptnClutch7810, and SayerQT. Despite losing Wenatchee to Jefferson, Salish has grown significantly with a new generation of residents coming from towns like Seattle, Okanagon, Cranbrooke, Edmonton and Snowdrift, with it going from a Federation up to a Kingdom. SayerQT had her term expanded by parliament into May.
The May Boom Edit
Throughout the beginning of May Salish experienced insane growth, especially on May 10, when the Cascadian town of Eureka joined Salish along with the new towns of Kindersley (now called Cereal) and Kilton Peak (now called Edgewater). In the days after that, Salish gained at least 1 town per day quickly jumping from the /n list Page 7 to Page 4, and becoming a realm on May 14, 2020. It continued to evolving steadily, passing Washington and Jefferson and then Cascadia later that month.
June 2020 Edit
In June 2020, xGoat_ was elected Chancellor in a close election with EstiQT. One of the major points of his campaign was going on the offensive with Washington and strengthening the military. Despite this, Goat pulled a 180 and announced that he will be disassembling the military. This sparked outrage among parliament, especially Timeline, who was the Minister of Defence who felt like Goat was overstepping his power. This resulted in Southern Ocean and Eureka leaving the nation. The second major thing of his chancellery came when the Salish Federation voted in favor of joining the Canadian Empire. The end result wasn't exactly what they were hoping for, as Salish is still at war with Washington, but it has eased tensions slightly. Later that week, the towns of Providence and Kindersley left the nation as they were unhappy with the current political climate and joined Klondike and Jefferson, respectively. Later that week, the Canadian Empire kicked Salish out for not ending the war with Washington and many member nations proceeded to attack Salish towns to little success.
July 2020 Edit
In July of 2020, JesTer_BBX was elected as chancellor after facing both SayerQT and _Kaito_Kid in the elections. Both other candidates dropped out before the election was over. JesTer had only been in Salish for 4 weeks before being elected and has thus far achieved peaceful relations with many nations. Plans to help build many more iceroads between the northwestern nations are in the works as well as bringing back the nation fund to allow towns to expand more.During his term, Edmonton has more than double in its members. And the nation has prospered well. He had a term extension into August by Parliament.
Government Edit
Chancellor Edit
The Head of the nation and elected by the Parliament. Works alongside Delegates as a fellow peer, and also deals with foreign policy. The Chancellor acts as a tiebreaker vote worth two if Parliament ever finds a tied vote. The current chancellor is JesTer as of July 1st, 2020.
Secretariat Edit
Various Delegates that are chosen by the Chancellor and voted on by the Parliament to help run the Federation. The current Secretariat consists of- SayerQT (Finance & the Treasury), JTPilfered (Foreign Affairs & Trade), _Kaito_Kid (Defence & Public Safety), Fortis_Ipsum (Recruitment & Internal Affairs), Isacle (Housing & Construction), and AMochi (Transportation & Roadways). The Lead Senator position was abolished as of July 2020.
Parliament Edit
The population, or Delegates is the voting body of the Salish Federation. It will vote on proposals, create laws, remove laws, remove Cabinet members, ect. Proposed items must be taken up and a vote held by the Parliament within one week, or they will fail to become law.
Each Canton of the Salish Federation will be as equals, with no nation or town over the other in terms of laws or elected officials. The Capital is shared by all Cantons, and no one nation can lay claim to it. Cantons are free to and encouraged to establish their own constitutions, freedoms, restrictions, trade, influence, and laws so long as they do not conflict with federation-approved Salish law. The current cantons by population are the Salish Canton (Capital in Seattle), and the Southern Ocean Canton (Capital in Snowdrift). The Kingdom of Haida was also a former canton of Salish during its infant stage, as well as the Pacific Republic (which fell into ruin), and Southern Ocean (which left).
Seattle is the capital city of the Salish Federation as well as for the Canton of Salish. It is both the most populated city in Salish as well as the largest by size and is a global hub on the Puget Sound. The mayor is JTPilfered. Read More.
Wenatchee Edit
Wenatchee is a large town on Washington's Columbia Plateau cut in half by the Columbia River. It was the original capital of the Salish Federation and was founded by Vorobyevite. It fell into inactivity and joined Jefferson under NoneAvailable. Due to complications, the town was abandoned with an inactive mayor until the town was passed to _Kaito_Kid who rejoined Salish and has made Wenatchee one of the most influential towns in the nation once again. Read More.
Edmonton Edit
Edmonton is a small city on the shores of Lesser Slave Lake in Northern Alberta. It has a bustling downtown district in the north as well as the Historical Strathcona district in the south, with Stantec Tower high above it all. It has many skyscrapers. The mayor is xGoat_. It is the third biggest town in the federation and has suburb towns like Sherwood Park. Read More.
Cranbrooke Edit
Cranbrooke is a booming villager that is almost halfway between Okanagon and Calgary. It is located in a small valley in the middle of the Canadian Rocky Range and is based on a feel similar to something from Lord of the Rings. The mayor is Isacle and was founded by iceskatingblu.
Winthrop Edit
Winthrop is a town in the North Cascades that is based on towns like Leavenworth or Banff. It is one of the most influential towns in the Federation. The mayor is SayerQT. It's clocktower is one of the most visible things for a distance. Read More.
Okanagon Edit
Okanagon is a village made in the ruins of the town of Zyllama on the north shore of Lake Okanagan in Southern British Columbia by DeppresedMug after leaving Winthrop. It was given to OperatorEnto when Mug4 left to create Kindersley (now known as Cereal) with Kenger1 and he has been developing it into a more modern town. It has been subject to multiple griefs.
Roseland Edit
Roseland is a former Nunavut town southwest of Edmonton. The mayor is MiloBee123.
New Liverpool Edit
New Liverpool is a small trading town just north of Okanagon. It has many shops and museums and is a nice tourist destination for people touring the Northwest. The mayor is soccerboy4.
Fossil is a town on the south side of the Columbia River that was started as a military base for the Salish Military and Defence Force but expanded to include shops and other plots. It also serves as the headquarters of the Ministry of Defence. The mayor is Blzard.
Cereal (formerly known as Provost and Kindersley) was founded by Mug4 and Kenger1 and they were co-mayors until Kenger1 quit EarthMC and Mug4 left Salish to found a town in Africa. The town was given to JesTer_BBX who renamed it to Cereal and it has grown significantly since.
Tofino is a relatively new town to Salish. The mayor has been very valued while he has been a part of the nation.The mayor is Amochi.
Big Rock Edit
Big Rock is a small town in Northern British Columbia right next to the Rocky Mountains. The mayor is cat26.
New Pork City Edit
New Pork City is a small town in between Cranbrooke and Okanagon ran by TheTavyo1.
Chelan is a town in Eastern Washington. The mayor is itap89 and ChineseWeeaboo is a councillor.
Former Towns Edit
Schaumberg (left and joined Cascadia)
Olympia (joined Salish then rejoined Cascadia)
Mt. Rainier (fell 7 May 2020)
Bend (fell 22 April 2020)
Penticton (fell Mid-April 2020)
Atlantinde (fell Mid-July 2020)
Hwangland (left and joined Cascadia)
Kilton Peak/Edgewater (left and joined Cascadia)
Voss (fell Late July)
Former Cantons Edit
Haida (left 16 Feb 2020)
Pacific Republic (fell 7 May 2020)
Southern Ocean (left 1 June 2020)
Landmarks Edit
Columbia Center
Space Needle
Tacoma Dome
Stantec Tower
National Place
Amazon Doppler Tower
Salish Parliamentary Legislature
Kitsap Peninsula
Mt. Rainier
Winthrop Clocktower
Puget Sound
Fossil Military Base
Winthrop Historical Village
Okanagan Historical Village
Strathcona Historical Village
Trans-Salish Highway (under-construction)
Chancellors of the Salish Federation Edit
Archive of previous and acting Chancellors of the Federation.
| Discord Name | Dates |
| --- | --- |
| Vorobyevite | Feb 10th - Feb 29th |
| JTPilfered | Mar 1st - April 1st |
| SayerQT | April 1st - May 31st |
| xGoat_ | June 1st - June 30th |
| JesTer_BBX | July 1st - Present |
Notable People Edit
Some relatively important members of the nation historically or currently
Vorobyevite, Founder of Salish, Mayor of Wenatchee, Former Chancellor
JTPilfered, Mayor of Seattle, Foreign Minister, Former Chancellor
SayerQT, Mayor of Winthrop, Former Chancellor
xGoat_, Mayor of Edmonton, Former Chancellor
JesTer_BBX, Mayor of Cereal, Current Chancellor
xOreoToast, King of Haida
Ayr_, Former Secretariat Member, Klondike Citizen, Former Premier of Southern Ocean
EstiQT (formerly Estonian Mapping), Former Winthrop Councillor, Former Chancellor Candidate
Isacle, Former Wenatchee Councillor, Seattle Resident, Minister of Housing
Blzard, Mayor of Fossil, Minister of Defence, General of the SMDF
Mug4, Mayor of Provost, Former MP of Canada, Former Citizen
PizzaJon, Former Wenatchee Citizen
nyatsumichi, Former Wenatchee Citizen
2knelson, Former Wenatchee Citizen
thegamingsquirrel, Premier of the Pacific Republic, Mayor of Mt. Rainier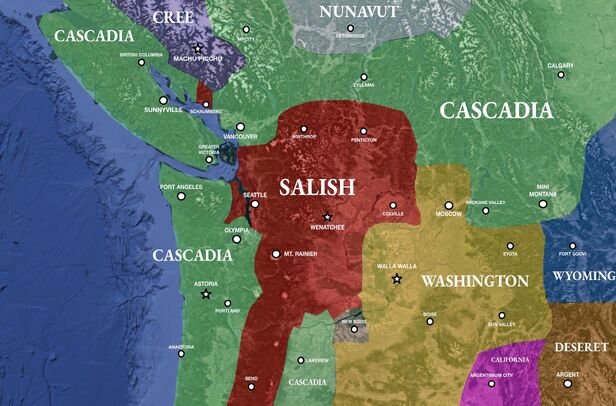 Map from Feburary 2020 ->