SaltedSuris is a player on EarthMC that resides in Domino, Labrador. He is the mayor of Domino and the leader of Labrador. He joined on March 10th, 2021, and he used to be part of Cascadia and Avalon. His real name is Džiugas
SaltedSuris
Profile Information
Aliases
Salted
Nation
Labrador
Town
Domino
Towny Rank
Nation Leader
Occupation
Organization
Political Party
Unknown
Clan
Religion
Pissism
Spouse(s)
Discord
SaltedSuris#0458
Signature
Spawn Information
Date of Spawn
March 30th, 2021
Place of Spawn
Siberia
Physical Information
Nationality
Lithuanian
Gender
Male
Blood Type
Zodiac
Height
Weight
Status Information
Status
Alive
Server Role
Player
Date of Ban
Reason
Nation History
Avalon
History
Before Labrador (March 10th, 2021 - August 2nd, 2021)
SaltedSuris' first days with his friends
SaltedSuris spawned in Siberia on March 30th 2021. Using the Dynmap, he traveled south to the nearest ice highway. During this journey, he invited 3 of his friends to the server. And so, SaltedSuris headed westward towards Europe and Lithuania. SaltedSuris wanted to visit Lithuania because of his real life lithuanian heritage. Eventually SaltedSuris arrived in Lithuania and waited for his friends to meet in Lithuania too.
In the meanwhile, Salted made a plan to make a nation in Antarctica with his friend's help. When all of Salted's friends were in one place, Salted said that they shall go south, to the south pole. And so, SaltedSuris began his journey by boat and traveled for hours until arriving at Palmer Paninsula (or Graham Land in the UK) and begining his first base across from Glacier_Spartan. Salted started planting crops like carrots, potatoes, wheat and bamboo. Salted shortly lost interest in this Antarctic idea along with his friends, all of them giving up on the server. In the end, only Salted and 1 other friend arrived to the base.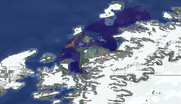 Time in Cascadia
SaltedSuris got bored of Antarctica, he left and, where Salted's antarctic base was located is now the town of LodHeim. He decided to join Cascadia. BigBroPro0425, the owner of Astoria invited SaltedSuris into Cascadia, where Salted worked for him and made concrete, earning 4 gold. During this time, SaltedSuris lost interest on the server due to having nothing to do. SaltedSuris would quit for a few days to only come back with a new plan.
Dabs_All_OvarYT's videos influence over SaltedSuris' future
SaltedSuris started watching EarthMC related videos on YouTube , where he discovered Dabs_All_OvarYT and his videos on EarthMc. SaltedSuris contacted Dabs and asked if he could join his town. Dabs_All_OvarYT accepted and got invited to Pee Pee Island, where SaltedSuris was given 2 plots to work with for a house. Over this time, SaltedSuris hatched plans on what to do during his time here now.
Over Night Fame
SaltedSuris finally decided to build a gunship off the coast of Avalon. SaltedSuris spent 1 hour and 30 minutes building the base of the ship. After building the base of the ship he logged off and returned back tomorrow to finish what he started. And so when he was done he dubbed the new Gunship the "SS. SKAUTAS" after his old username on Discord. When he made the ship, he informed Avalon's leaders about what he done and the leaders were surprised.