Santiago
Town Information
Full Name
Santiago de Nueva Extremadura
National Anthem
Name in Towny
Santiago
Motto
Established
December 11th 2018
Disbanded
Nation
Chile
Population
33
Chunks
211
Coordinates
Continent
South America
Government Information
Mayor
CRISTUL12
Councillors
Political System
Economic System
Official Language
Spanish
Official Religion
Secular State
Historical Information
Past Nations
Argentina
Past Mayors
N/A
Past Councillors
Santiago is the unique Metropolis of Chile.
History
Foundation Santiago de Chile was founded by CRISTUL12 in December 7th of 2018, he arrived there just by walking since Buenos Aires to Mapocho valley. Santiago's centre point is alligned with 6 mountains considered sacred by the Incas, those are ""El Cardón"", ""El Copao"" , ""El sombrero"" , ""El punta de damas"", ""El Provincias"" and ""El Plomo"" this last one has a glacier on it's top, called ""Glaciar el Plomo"" and there it's bornt the river that names all the valley, the Mapocho river, having all the perfecto weather conditions, the town was settled. The 8th of December of 2018 the town became part of La_Plata and so the Spanish empire.
The city became part of La_Plata and so, the spanish empire the 8th of December.
Planification and building Santiago had a really irregular surface, so CRISTUL12 started to terraform a flat surface for making the system of ""Cuadras"" the way spanish empire organized towns, with a central square in the eye of the city and the most important structures more near to the sóhalo, he was helped by 3 other people, Carlos_Sesio , Sasa_sese and ElectricTeam that ruled Santiago when CRISTUL12 was offline.
When those three guys left the town, the construccion or the governor and governation department began, the construction of those structures took to CRISTUL12 about 6 hours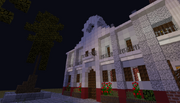 Governation's house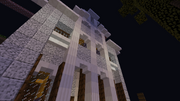 Governor's house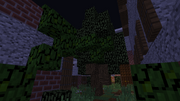 Garden of governor's house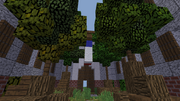 Garden of governation's house
The second edification was the Metropólitan church of Santiago, built just by CRISTUL12 it's today most biggest christian temple on Chile and possibly from southamerica
The church has at the left side, a house for priests, with interior gardens and places for chilling and praying, they count on with the tax called ""Diezmo"" to realese all the labors that the church requires
The Third and most simplest buildings was Santiago's jail and Carabiners houses, Santiago's jail has just 1 room for prisoners, 1 for torture and other two for the ""Luceros"" and Carabiners
The fourth building was the Ahumada's shopping, it belongs to one of the oldest families in Chile, there it's sold everything a citizen might need, it's not working right now cause the shop plugin is broken
Community content is available under
CC-BY-SA
unless otherwise noted.