On the 26th of february 2021 the player known as 32Bene would make an announcement in the Europa Pact discord server declaring that The Europa pact, The Marvin pact and Spain had declared war on the controversial player 32Luis for commiting several war crimes during the Iberian war. Later that day the king of spain 32Pengun would make this statement official by posting it in the spanish discord.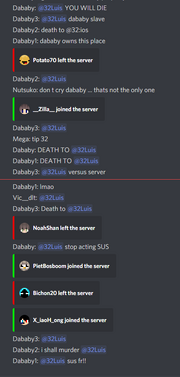 On the 28th of february 2021 the spanish viceroyalty of Guinea would join the war on the spanish side. After this declaration of war the "Dababy army" made up of 32Pengun, 32Bene, 32Bguns, Vic__dlt and TheGMJ would meet up in guinea and spamping 32Luis in the global chat.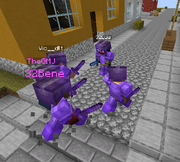 THE MARCH TO CACERES
Later on the day of 28th february 2021 the Dababy army decided to invade Luis' town of Caceres. This attack would lead to 32Bene dying to Luis and BGuns quiting the fight after 32Luis killing him whilst he was naked. Several players would also fall into some of Luis' evil traps in the town. After this invasion Luis and 32Pengun would sign an armistice lasting 10 minutes. Pengun and GMJ then murdered Luis by 5v1ing him in a civilian house achieving all of his items. Luis tricked Pengun and TheGMJ without any dignity, saying "I surrendur" instead of "I surrender" , a tactic used only by the coward, Luis which lead to him getting his items back and fighting, jumping in and out of claims attempting to get hits onto members of Dababy Army, for 20 more minutes. At the end, Luis decided to bore the remaining soldiers, causing them to leave the battle due to a stalemate. Due to the nature of Luis' illegal, civilian-killing tramps and cowardice fighting tactics, Spain marched back to Madrid after achieving victory over Caceres.