Uzhitz
Town Information
Full Name
National Anthem
Name in Towny
Uzhitz
Motto
Established
May 2, 2019
Disbanded
August 3, 2019
Nation
Terra Mariana
Population
Highest peak: 3
Chunks
14
Coordinates
4340, -11656
Continent
Europe
Government Information
Mayor
kiwicallum
Councillors
Political System
Economic System
Official Language
English
Official Religion
Historical Information
Past Nations
Past Mayors
nicosecci
Past Councillors
Uzhitz was a town created by nicosecci. It was situated on a hill top, in Southern Finland. Its emblem was the Bailiff. kiwicallum was the last mayor of the town.
History
The creation
The town was created on 2nd May 2019 and it was part of Terra Mariana from the starting. The founder, nicosecci, created the city after leaving Arensburg, but without losing contact with it. Its name comes from a popular medieval videogame.
The town has been in the center of a discussion between Greater Finland and Terra Mariana, because it was placed in the center of its territory.
The slow decline
As nicosecci bought Hiiumaa, the only resident was kiwicallum, that after 42 days of inactivity, on August 3rd 2019, brought the town to disband.
The Bailiff's Monument
It was situated on the tallest hill in the town and it is its emblem. It was the first building ever created in the town. As the name, the figure of the Bailiff comes from a popular videogame.
Transport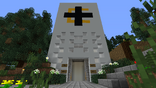 Despite the prenence of a inactive Connect TM underground station, Uzhitz was not a part of the railway network, having been cut off from the rest of Terra Mariana due to Greater_Finland's wall to block the road to Uzhitz
Community content is available under
CC-BY-SA
unless otherwise noted.