Visby
Town Information
Full Name
National Anthem
Name in Towny
Motto
Established
March 2019
Disbanded
Aug 18, 2019
Nation
Terra Mariana
Population
1
Chunks
Coordinates
3217, -10781
Continent
Europe
Government Information
Mayor
Jarl haamster
Councillors
Political System
Economic System
Official Language
English
Official Religion
Roman Catholic
Historical Information
Past Nations
Past Mayors
None
Past Councillors
Visby (formerly known as Gotland) was a town located in Gotland Island, in the nation of Terra Mariana. On the area of the disbanded town, now there's New Lechia.
History
Pre-Historic
Not much is known about the pre-historic time in Gotland, with the exception of the ruins from a former empire. There have been found inscriptions on the walls on various parts of the island, most in Swedish, pertaining information about the town's residents, it's governmental structure as well as resources.
There is a large castle on the island, as well as a large wall surrounding the north-eastern part of the island.
Modern (February-March 2019)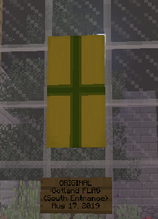 In March of 2019, the town of Gotland was founded on the southern part of the island.
When the town was formed there was another town with a single inhabitant on the island. Not much is known about this inhabitant, other than that he or she disappeared mysteriously only a few days after the new settlers moved onto the island.
Under the island's new rule the town blossomed and many parts of the castle and outer wall which were in disarray after years of being forgotten are currently in the works of being repaired and maintained. The inner sanctum of the castle has also been completely remodelled to fit a more modern standard with modern amenities, such as a railway linking the island to the northern city of Stockholm, as well as plans for southern and western expansions of the railway in order to become a central hub for transportation in the Scandinavian and Western European region.
The town was then renamed to Visby and disbanded on August 18, 2019.
Community content is available under
CC-BY-SA
unless otherwise noted.