Wuhan 武漢
Town Information
Full Name
Metropolis of Wuhan 武漢城
National Anthem
Name in Towny
Wuhan (Formerly Hankou)
Motto
Established
January 10, 2019
Disbanded
Nation
Xia Dynasty 夏朝
Population
70
Chunks
488
Coordinates
Continent
Asia 亞洲
Government Information
Mayor
Emperor Omoshiroi_Sana and yogiannie
Councillors
yogiannie
Political System
Monarchy 君主制
Economic System
Capitalism 資本主義
Official Language
Chinese

English

Official Religion
Sanaism
Historical Information
Past Nations
Ming (Old), Qin (Old), Han
Past Mayors
Aiden, Keenno90, hopeless408, yogiannie
Past Councillors
Description 
Wuhan is a large town located in central China, next to the Yangtze River, composing of West, Central and East Wuhan.
Wuhan has gone through the ruling of 3 dynasties, Ming, Qin, Han, and is currently the capital of Xia. To continue the legacy of hopeless408, Wuhan still aims to be the "cutest town on EMC" while also create cool and astonishing architectures that suits the recurring theme of Wuhan. Wuhan also strives to be a famous horse dealing and breeding center as well as a wool and wood production hub of the whole EMC. The town structures are built using primarily magenta terracotta and dark oak while yogiannie greatly favors glass structures.
Its flag was created on April 22, 2019. It is very similar to the Qin flag, with some modifications to represent the town of Wuhan.
It was once easily accessible from the capital (Xianyang) during Qin rule.
Wuhan is one of the more peaceful towns compared to others in the China region as the kill count of its residents is very low and residents enjoy relaxing activities more. (Exception includes Emperor Omoshiroi_Sana who is a PvP enthusiast.)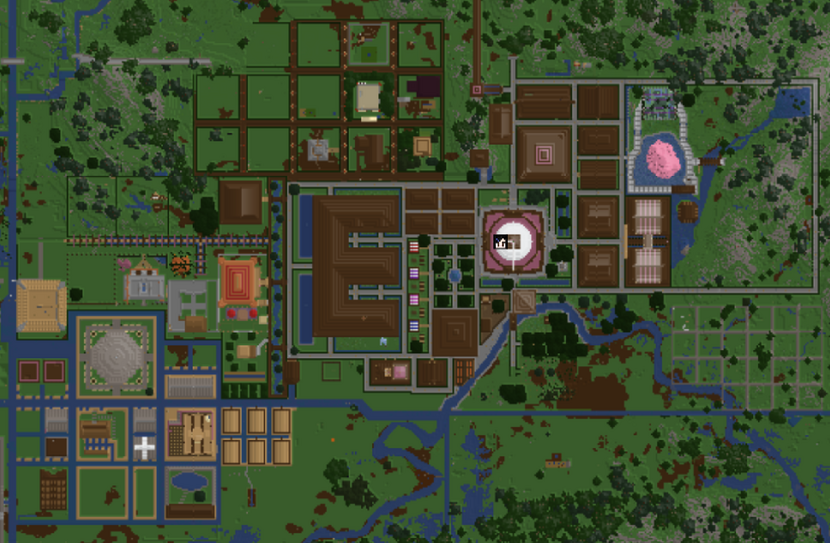 Buildings
The following list is of all the current architecture in Wuhan:
Wuhan Twin Tower (Horse shop & Sign shop)
LianJiang Tower
Wuhan Restaurant / Hotel
Wuhan Stable
Wuhan Barn
Wuhan Residential districts 1 and 2
Wuhan Warehouse
Wuhan Villagers Trading Center
Wuhan Farmer's Market
Riverside seating area
Wuhan East Park
Wuhan Public Resource House
Wuhan Underground Farm
Wuhan Venice
Wuhan Aquarium
Wuhan Banner Hall
'Notable People'
Emperor Omoshiroi_Sana (glowstone lover)

Has improved the lighting of Wuhan, helped with many buildings of Wuhan and built the Wuhan Twin Tower.
Contributor of all beacons of Wuhan and end crystals
Mayorship was transferred to Omoshiroi_Sana from yogiannie on 31st December, 2019

Councilor yogiannie

The second citizen to join after the reform. She was responsible for the caring of the underground farm and animals at first and had participated more in the building of Wuhan afterward. She inherited the town from the former mayor hopeless408 on 8th May, 2019. Then transferred mayorship to Omoshiroi_Sana on 31st December, 2019.

Former Mayor hopeless408

She was the first mayor of Wuhan and built most of Wuhan's structures and facilities. She also the Former Empress, alongside Former Emperor Englavian.

Former citizen xpfung_YT (Currently the Mayor of Chongqing)

The first citizen to be recruited by hopeless408. He has helped greatly during the demolishing and initial reconstruction of Wuhan.
Builder BreezeSnowNight

Singlehandedly built the whole Wuhan Venice. BreezeSnowNight designed, collected materials and built the Wuhan Venice by himself during the summer of 2019.
History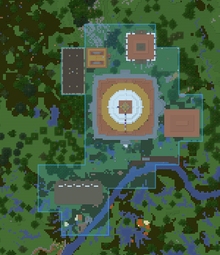 Wuhan, formerly Hankou, was the capital of the now-defunct Ming Dynasty that was founded near the original Qin dynasty. Under Ming, Aiden was the mayor of Hankou. 
The Ming Dynasty later became the Tang Dynasty and Aiden abdicated the nation and capital to Keenno90. 
Later, when Keenno90 transferred emperorship to Englavian, the Tang capital became Xianyang. Keenno90 remained as mayor of Hankou up until March 23, 2019, when Keenno90 appointed hopeless408 as the mayor after recommendation from Englavian. This is due to Keenno90 quitting EMC.
Under hopeless408, Hankou underwent major renovations with all buildings being demolished except for the central temple, which was rebuilt block by block to match the new color scheme. Hankou grew from a 35 chunk town to a 70 chunk town in less than a month and is still growing with a decent fortune in its bank. A map screenshot of Hankou before hopeless408 became mayor is provided for reference. 
On April 7, 2019, the town name was changed to Wuhan in order to be more geographically accurate.
On May 8, 2019, Former Empress hopeless408 appointed Yogiannie as the new mayor of Wuhan as hopeless408 has decided to quit EMC.
On June 24, 2019, the profile of former Empress hopeless408 was deleted.
Soon following that, marks the end and fall of the great Qin dynasty of EMC. Emperor XDA1 disbanded Qin on July 12, 2019. Wuhan joined Han, which was the successor of Qin, on the same day.
On December 31, 2019, former mayor yogiannie transferred mayorship to Wuhan's councilor Omoshiroi_Sana base on a request to 'try something out'. With mayorship in hand, Omoshiroi_Sana left Han and joined the new Qin, and claimed to be the old Wuhan in global chat with the new title. Afterward, yogiannie requested for the return of mayorship. However, Omoshiroi_Sana refused. Omoshiroi_Sana intended to keep mayorship, create a new nation and become the Emporer. After much discussion and thorough contemplation, yogiannie has given up on creating a ticket for mayor transfer, and allowed Omoshiroi_Sana to be the new mayor of Wuhan.
On January 3, 2020, Xia was created with Omoshiroi_Sana as the Emperor, and Wuhan as the nation capital.
Under Emperor Omoshiroi_Sana's management, Wuhan's development rocketed. Not only was the underground farm expanded greatly for wool and leather production, Wuhan's first shop was also created and located on the 1st to 4th floor of the right column of the Wuhan Twin Tower. The residents' plots area was also refined and expanded to accommodate the drastic increase in citizens.
Community content is available under
CC-BY-SA
unless otherwise noted.